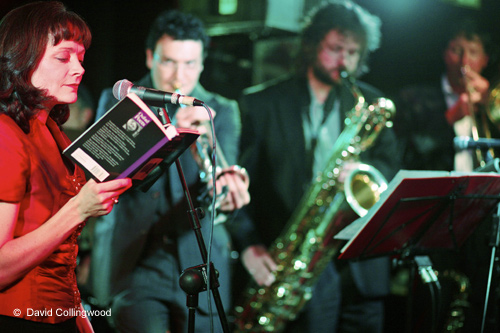 WALKING NAKED is a hugely enjoyable performance featuring expressively illustrated poetry alongside classic jazz songs – a unique combination of exploration, storytelling and humour.
People who weren't sure about free jazz or poetry (or both!) emerge buzzing, having discovered a fusion approach that revels in understanding and pleasure within both genres.
Poems by classic and contemporary writers are read – or sung to an improvised melody – whilst the band creates a musical response.  The performance becomes an exciting exploration of text and texture – poetic images have space to develop, and new or deeper meaning emerge in both words and music.


Originally created in 2009 as UTTER IMPRO, this project was re-named WALKING NAKED in 2014, thanks to Harry's Mum and this poem by WB Yeats:
A COAT
I made my song a coat
Covered with embroideries
Out of old mythologies
From heel to throat;
But the fools caught it,
Wore it in the world's eyes
As though they'd wrought it.
Song, let them take it,
For there's more enterprise
In walking naked.
This project received an Arts Council/Jazz Services Touring Award in 2009 and continues to be available to promoters, and also to schools with integral education workshops.
With sincere thanks to all the poets who have kindly given us permission to work with their poems.

[dj_manager_mp id="UTTER:JAZZ"]
AUDIENCE FEEDBACK
"One of the highlights"
Cheltenham Literature Festival
"Fantastic show… real class, talent and presence"
The Cornerstone, Didcot
"Beautiful – the jazz poetry is genius"
Pizza Express Jazz Club Soho
"I was spellbound – unforgettable"
Kings Sutton Literature Festival
"I was transported"
Cheltenham Literature Festival
"It made free jazz impro something ordinary mortals like me can enjoy"
Pizza Express Jazz Club Soho

"I heard a favourite poem as never before. Unique and unforgettable – I wept."
Kings Sutton Literature Festival

PRESS & PROMOTERS
"Everyone loved it"
Halesworth Arts Centre
"Unusual and appealing"
Ivan Hewett, The Telegraph
"A superb fusion of music and poetry – dazzling"
Banbury Guardian
"A fantastic show"
Cheltenham Literature Festival