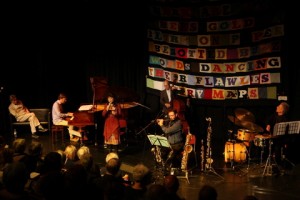 UtterJazz with Alex Jennings at Wenlock Poetry Festival

The latest project from Utter:Jazz is LOOK, STRANGER – twelve vibrant re-imaginings of Benjamin Britten's WH Auden settings for jazz quartet and voice.  Swing, samba, blues and groves are woven through the stunning harmonic soundscapes of the originals.  They premiere July 2013 with 14 more performances running through to Britten's Centenary in November.  With actors including Sir Derek Jacobi, Roger Lloyd Pack and Samuel West reading Auden poetry between songs.
"A resounding success" Sheffield Concerts
"Fantastic" BBC Radio 3
The best evening I've had in a theatre all my life. Audience Feedback, Oxford

The Utter:Jazz Collective was formed in 2008 by Ruthie Culver to develop engaging new ways of presenting jazz and poetry together, bringing these wonderful art forms to a wider audience.
The first Utter:Jazz tour was UTTER IMPRO in 2009 – part jazz concert, part poetry reading with improvised music. There's no rehearsal – the band creates music in response to the words of poems as they are spoken aloud, allowing the images to open up and the poems to expand.  Jazz standards and original songs written to the words of established poets complete the programme.
The UTTER:JAZZ team are all talented educationalists, and offer a range of education workshops alongside performances.
Utter:Jazz aims to connect text and music more closely than in many jazz/poetry collaborations, and to make the music more improvisatory than in many other poet-musician projects, which often involve a composed score.
Future plans include FIVE EYES – an exploration of the English Art Song and its poetry through jazz.